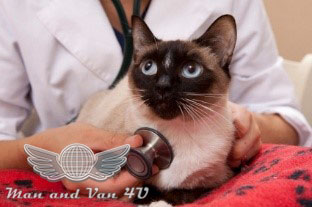 Having a pet is great but moving with one can be quite challenging. This is why we decided to write an article with moving tips for pet owners.
Make a plan:
Draft a moving schedule and stick to it. This way you will have enough time to properly pack and prepare your belongings and take care of your pet. It will also reduce the stress that you will be experience as you will know in advance what you should do.

Take your pet to the veterinarian:
Contact your veterinarian and tell him that you are moving. Have him check your pet and give him all his due shots. Also ask that he provides you copies of your pet's medical records and a sedative for your animal just in case it cannot rest calm during the relocation. Last but not least, ask your vet whether he knows a good and reliable colleague in your new area.
Book a man and van company that has pet-friendly services:
There are numerous removal firms such as Man and Van 4U that have tailored their services to be pet-friendly. However keep in mind that such companies are extremely busy, so you should book them at least two weeks prior of your move if not earlier. Also don't worry about the price of such services because most moving firms work with reasonable rates.
Check your new accommodations:
You should go to your new household and check whether it is pet-proof. If it lacks the necessary features, you should install them before you move. This way you will make your new accommodations cozier and more welcoming for your pet and more importantly you will have the peace of mind that your animal cannot get harmed while it settles in.
Get a cage:
It may sound harsh but unless you are going to travel with your own car you should buy or rent a cage for your pet because public transport companies cannot allow animals to travel with the passengers and must keep in them in the cargo section which explains the necessary of a cage. Keep in mind that the traveling stage of your move will perhaps be the trickiest part so you should consider sedating your pet with the aforementioned sedative.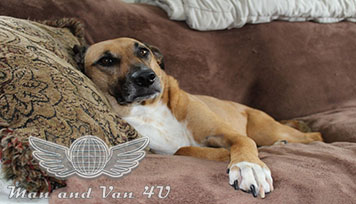 As D-day approaches your pet will get more agitated as it will feel that something is happening. This is why you should spoil it as much as you can. This will reduce the stress that your animal experience and will keep it calm.
Leave a room of your former home unchanged:
Prepare your entire household for the move expect one room and lock your pet in it when the movers arrive. Once everything is loaded, get your animal and go for a walk while the moving technicians from manandvan4u.com pack and loaded the reminder of your belongings.
Allow your pet to roam freely in the new house:
Once the move is over and you have arrived at your new household, let your pet explore the house in order to settle in more quickly. Also once again spoil it because it will need your attention to accept that its surroundings have changed.